THE OFFICIAL AND EXCLUSIVE FREIGHT FORWARDER
AND CUSTOM BROKER
of Centrum Targowo-
Kongresowe MT Polska
in Warsaw

Contact for exhibitors:
+ 48 22 100 28 90
Mobile: + 48 601 808 559
Contact person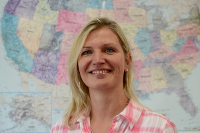 Małgorzata Stankiewicz
email: uex@uex.pl
Universal Express. Your Polish partner.
Our business is to take care of your business.
We specialize in taking care of our principal's business in Poland. If you have customers shipping to and from Poland, we are the people to turn to, to handle your business in Poland professionally and with discretion.
Established in 1990, Universal Express is one of Poland's most experienced forwarders and licensed customs brokers. We are privately held and completely independent, so we understand we are only as good as our last job, and we have to do a great job for you every time.
Ex-agents for FedEx, Expeditors, Exel, and Nippon Express (amongst others), we chose to stay independent, and serve a wider global clientelle, managing our own network of trusted colleagues worldwide, providing them and our own Polish customers with unsurpassed service.
Apart from our traditional strengths in freight forwarding and customs clearance, we have grown into a fully outsourced logistics and IT provider for our Polish customers, making it also possible for you to offer your customers more services in Poland than ever before.
As part of the Universal Express Group in Poland, we have access to the resources of the whole group, giving you unparalleled access to a wide variety of services.


We hope you will find these pages useful,
and please contact us for more information.

Experience
Independence
Resources
Discretion
Reliability

Universal Express
Sp. z o.o.
ul. 17 stycznia 45B (Zephirus)
02-146 Warszawa
tel. 48 22 100 28 90
tel. 48 22 100 28 91
e-mail: office@uex.pl