THE OFFICIAL AND EXCLUSIVE FREIGHT FORWARDER
AND CUSTOM BROKER
of Centrum Targowo-
Kongresowe MT Polska
in Warsaw

Contact for exhibitors:
+ 48 22 100 28 90
Mobile: + 48 601 808 559
Contact person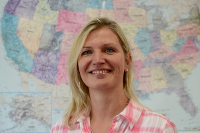 Małgorzata Stankiewicz
email: uex@uex.pl
EXHIBITS FORWARDING
We are member of IELA (International Exhibition Logistics Associates) and are members of the Polish Exhibit forwarding association. We can handle the import and export of your exhibit, storage, crating, installation and dismantling, site-management, even event furniture rental within our group.
We understand how time-sensitive exhibits are, and that if they are not on time, they are really useless. We are therefore set-up to deal with this time sensitivity.
We provide services throughout Poland including the more major venues: Warsaw, Poznan, Kielce, and Radom.



Please contact us
to learn more.

Experience
Independence
Resources
Discretion
Reliability

Universal Express
Sp. z o.o.
ul. 17 stycznia 45B (Zephirus)
02-146 Warsaw
tel. 48 22 100 28 90
tel. 48 22 100 28 91
e-mail: office@uex.pl